Barefoot Boat by Til Schweiger
RELAXED, NATURAL, AUTHENTIC – THE BAREFOOT FEELING IN REGENSBURG
A unique ship brings an easy-living feeling in town: Every October our brand new  Barefoot Boat by Til Schweiger is moving to Regensburg, its winter residence! This ship set a new standard of authentic naturalness. In cooperation with the famous German actor Til Schweiger the Donauschifffahrt Wurm & Noé has built a unique ship : Til Schweiger created his unique  "Barefoot" style and this sets a relaxing atmosphere  – the boat has the charme a swimming spa! A lot of wooden details, woven baskets and linen a dominating the interior and the exterior (more information about the ship itself: please klick here).
The citizens of Regensburg are able to experience it in different kind of ways: Starting in October, there will be a  "Barefoot Sunday Brunch" until January. Additionally there are the festive "Barefoot Christmas" Cruise and some informal sightseeing tours to the famous Walhalla in November and December.
Come on board an experience the unique Barefoot feeling upon the Danube!
Our Barefoot Cruises in Autumn and Winter at Regensburg: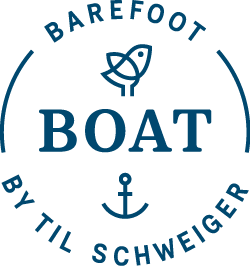 Donauschifffahrt
Wurm & Noé
Ostengasse 3
93047 Regensburg