Harbour Tour
Experience Linz up close by the waterside
On board our MS Linzerin you will experience unique perspectives on Linz with its impressive mixture of modern architecture, cultural sites, industrial harbors and a short trip into the "Mural Harbor": It's a short overview on a impressive work of art: f.The "Mural Harbor", created in Linz's commercial port, is Europe's largest graffiti gallery and shows more than 300 graffitis and mural in- and outside of the harbor buildings by artists from all over the world. For a closer look we recommend a guided tour through the area – in Summer time we also offer a combined ticket (please see below).
DETAILS TO THE CRUISE:
Harbour Tour in Linz
€ 12,00 per person 
Children (6 until 13 years) 50 % discount
Children until 5 years free
Main Season 2023: Wednesday until Sunday from April 29 until October 1 in 2023
Off Season 2023: Saturdays from October 7 until October 28 and November 25 until December 16 in 2023
Departures Main Season: 11:00 a.m. / 12:00 p.m. / 13:00 p.m. / 14:00 p.m. / 15:00 p.m. / 16:00 p.m.
Departures Off Season: 11:00 a.m. / 12:00 p.m. / 13:00 p.m. / 14:00 p.m. / 15:00 p.m.

Duration: ca. 45 minutes
Departure place:
"Donaupark" at the art museum Lentos, Wurm & Noé-dock in Linz
Ticket sales: In the webshop or at the ticket office
Are you a group or do you have any questions? Please contact us!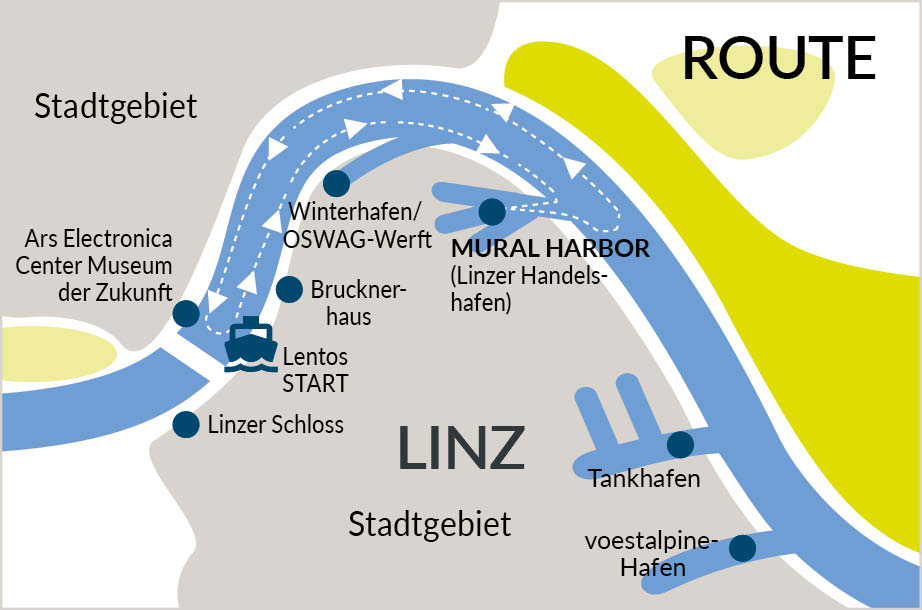 Drinks and snacks on board available.
Our culinary special: 
"CAKE CRUISE" –  Harbour Tour incl. 1 piece of "Linzer" cake and a cup of coffee/tea   € 18,20